GEODA is a musical project created by Facundo López, guitarist and vocalist from Bariloche, Patagonia, Argentina. It is not easy to define the style of GEODA, but we could place it within the genres of melodic and/or technical Death Metal, not far from Thrash Metal, and with some progressive dyes.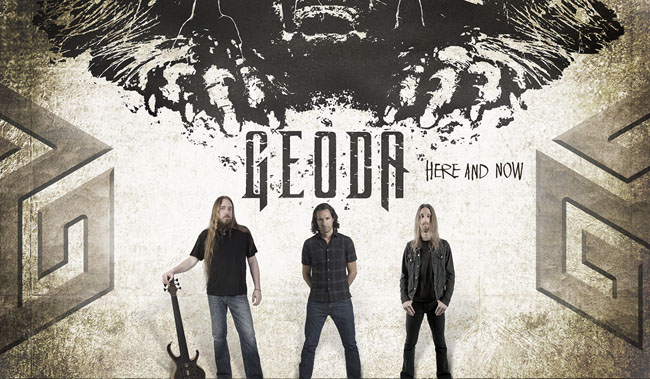 Facundo started playing the guitar at the age of 8, and from very young he went into the metal genre with a very personal and defined style. His technically demanding songs, in addition to his constant and disciplined way of working, plus the fact of living in a small and remote city, always generated certain frustration among his partners at the need to dedicate so many hours of rehearsal and work to a project that did not allow a large number of live performances per year. Many musicians went into the project but they always left it prematurely, so GEODA never became a stable band.
But the project took form in 2012 when Facundo that had already enough songs to give shape to a full lenght, decides to record 12 tracks for his debut album "Firebreak" with the participation of Federico Mele and Andrés Zadunaisky, both musicians from Buenos Aires. This album has had very good reception nationally and internationally. GEODA sought here musicality and expression with a raw and organic sound, concepts that also define the lyrics, that relate social and personal issues with the environment, the search for an awakening, and the attempt to break the shackles of a dystopian world to which we are approaching.
Between 2015 and 2016 GEODA had a few gigs in different cities of Argentina, including Buenos Aires, with Leandro Ulecia on bass and "Punky" Condorí on drums, both also from Bariloche.
Between 2016/2017 Facundo recorded 11 demo songs for a new album but since his actual partners couldn't make the commitment that a full album recording demands, he started to look for new international musicians to take this project to a higher level. He contacted Dirk Verbeuren (Megadeth - Soilwork), one of the best drummers in the genre, who accepted the challenge and suggested for the bass his friend, the fretless guru Steve Di Giorgio (Testament - Death - Sadus). The result of this cooperation is the new album titled "Here and Now", released June 7th 2019, a clear evolution of what "Firebreak" was. Maintaining the concepts that defined the first album, "Here and Now" has 11 songs with an unusual variety, maturity and creativity, enriched by the talent and good taste internationally recognized by Dirk Verbeuren and Steve Di Giorgio, who left here one of their best performances. You can download this album HERE
The "Organic Death Metal" of GEODA has in "Here and Now" its definitive signature. We believe that this album will be for posterity and will find a place of privilege within the most sophisticated and original metal.
Stay updated through our Facebook: GEODA - Organic Death Metal
The concept of "organic" that we arbitrarily took to define our style and that is today widely known for its application in agriculture, has its foundations in the production methods that care for the environment and the human health, where natural and sustainable processes are used and where the synthetic products, chemicals, genetically modified seeds, etc., are avoided. We believe that the "Metal" genre has increasingly industrialized. The audio, the contents and the musical creation in most of the bands has been standardized and aesthetic have been prioritized. We do not intend to be machines although we seek for depth and complexity in our music. We want to return to the roots to enjoy the real thing, although that may be far from the perfection that the current music market requires: a delusory perfection usually achieved by the abuse of editing tools and digital technology. We have been dragged by a system that shaped our tastes. Metal became plastic. GEODA doesn't want to "blow your mind" at the first second, we want you to feel our music, gaining connection gradually. We want that what we say and play to echo in the heart first and then in the mind, to connect to a deeper level and obtain a long-lasting relationship.